Mantras
"Om Shreem Hreem Shreem Kamle Kamalalaye Praseed, Praseed, Shreem Hreem Shreem Om Mahalaxmaye Namah"
Shree Yantra
is one of the most auspicious, important and powerful Yantras, which not only gives the maximum benefit, but also proves beneficial for almost everybody. It is the source of attaining all worldly desires & fulfilling all wishes through inner cosmic power & mental strength. "Shree Yantra" - Shree meaning wealth and Yantra - Meaning "Instrument" - The Instrument for Wealth The Shree Yantra brings about material and spiritual wealth. Shree Yantra has that unexplained power to fulfill all our wishes and change our life for the better. Shree Yantra is definitely the answer to all the problems and negativity in our life .Any greater affluence, peace and harmony. Shree Yantra helps in breaking all the Obstacles in our life. It helps us push indefinitely and easily the limits of growth - both spiritually and materialistically. There are negative energies around us in greater or smaller magnitude. These negative energy stands in our way of achieving greater success, affluence, Harmony and Peace. Many times we find that life is out of our control. We find ourselves in a position of Extreme stress , lack of peace and harmony , high degree of anxiety , friction in relationship with others , Bad investments , faltering business , stagnation in life and profession , decreasing financial prospects , insecure feeling , repeated failures and sheer bad luck - Though we involve our best efforts , hard work , intelligence and good intentions .

Shree Yantra Sacred Geometry - help in clearing all the negative energies - the fog that surrounds our life - standing in our way of Peace, Prosperity and Harmony and make everything work for us in orderly manner. Shree Yantra the Multi Pyramid Geometric Grid is in 2 Dimension or 3 Dimension form. In 2 Dimension Form it is a Symbol of 9 Intertwined Isosceles triangle. It has been experienced Worldwide that Intertwined Triangles. The 6 pointed Star or Double Triangle Jewish sacred Geometry has always been proven to be Good Luck and sacred symbols. Shree Yantra is the symbolic form of all Gods and Goddesses. Shree Yantra was possessed by Brahma, the creator of the Universe and praised by Vishnu the lord of the Earth. Shree Yantra is connected deeply with the Ancient Art of Vaastu and has been specifically mentioned in the 'Vaastu Shastra'. All constructions based on Vaastu must essentially have Shree Yantra in it. The Vedas explain Shree Yantra as a scientific, cosmic and planetary energy zone.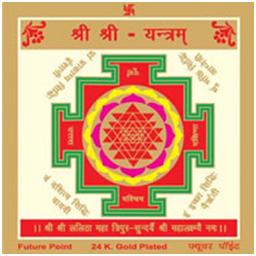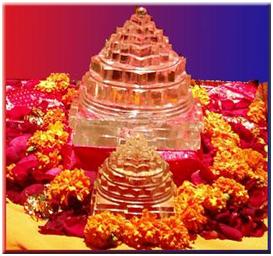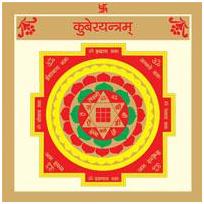 Lord Kuber
is the God of wealth and money. Lord Kuber Yantra denotes wealth, money and success in business as well as acquisition and accumulation of wealth. Sri Kuber Yantra blesses the owner of this Yantra with wealth & prosperity. Sri Kuber Yantra opens up avenues for new sources of income; increases fund flow & encourage accumulation of wealth. Sri Kuber Yantra is recommended for growth in business, career & profession as well as increase in income & wealth. Sri Kuber Yantra bestows wealth, prosperity and good fortune on the owner of this Yantra. Worship of Kuber Yantra gives the worshipper all these results. The owner of the Yantra will never be lacking money & material comforts - his house & treasury will always be full, and he & his family never have shortage of resources. Sri Kuber Yantra is kept in house temple, Cash box, almirah and in offices where financial transactions are made. Embossed on copper plate.
KUBERA MANTRA

"Om yakashyaya kuberaya Veaishravanaya dana danyathpathaye danadanya smithirmme dehi tapaya swagah"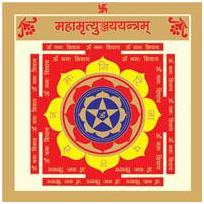 Yantra For Health - Mahamritunjay Yantra

Yantra to free the fear of death, grave dangers, fatal diseases and makes him courageous and healthy.
An outstanding yantra of great values, to be carried on silver or copper plate. The use and upasana of Maha Mritunjay yantra is worship of Lord Mahamritunjay Shiva and is most auspicious and bestows the person with wealth, health and happiness, good fortune and fame. Maha Mritunjay yantra dispels all sort of fears, influence of evil planets, fear of ghosts accidental death and disease etc. Maha Mritunjay yantra particularly relieves one from all dreadful diseases. This yantra is carved on copper plate with 24 caret Gold plating and is energized with mantras. The person who perform puja to mahmritunjay yantra , remains in good health and free from all ailments.
Lord Mrityunjay Mahadev is the winner of death. On worshiping Mrityunjay Mahadev one can escape from miseries and troubles of this materialistic world as well as the problems related to inner soul. He eats our troubles, tensions, stress as well as our ego. Lord Mrityunjay is the doctor of soul and sentiments. Maha Mritunjay yantraa is useful when Saturn, Mars is enjoined, in opposition or in aspect to each other in a birthchart or in transit to avoid any accident or accidental death. Maha Mritunjay yantra is worshipped, also after pooja, the yantra be dipped in water and the water is to be drink as "Charnamrit" to control and cure diseases. The water sprinkled in the house creates amity comfort in home. The pooja of Maha Mritunjay yantra is like that of Kali or Durga yantra.
To avoid effects of souls and other calamities, Maha Mritunjay yantra, after pooja or being energised, is fixed on the outer Gates of the house.

The people who remain sick or are very prone to infections and diseases must worship sri Maha mrityunjaya yantra .
Mantra:-
"Aum Tryambakam Yajamahe Sugandhim Pushti-vardhanam Urva - rukamiva Bandhanan Mrtyor - muksheeya Maamritat ||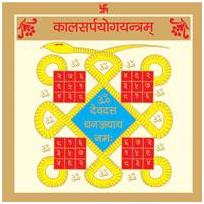 'Kaal Sarp' is an astrological condition, which results from the influence of Rahu and Ketu on the remaining planets, in the birth chart of an individual. 'Kaal Sarp' causes a chequered life, especially with regard to one's career, due to which one only achieves modest success after a great deal of struggle. However, this effect lasts for only one - third of the lifespan of an individual, thereafter, its influence decreases. 'Kaal Sarp' is however, a permanent condition and does not change with transit. This astrological talisman behaves as a barrier to the effects of 'Kaal Sarp', thereby greatly reducing its influence. Worship of the consecrated Kaalsarp Yantra reduces the ill-effects of the Kaalsarp Yoga. People having Kaal Sarp Dosha shall perform puja on Naag-Panchmi as well as establish energized Kaal Sarp Yantra in their house to protect themselves from the evil effect of this yoga.
In Sanskrit Kaal means death. The person born under Kaal Sarp Yoga passes through death like agonies throughout the life. The Kaal Sarp Yoga been formed when all the planets are situated between Rahu and Ketu.
Mantra:
"Om nav kulaye vidhmahe vishdantaye dhee mahi tanno sarp prachodayat ll

"Om bhram bhreem bhroum sah rahave namah ll

" Om shram shreem shroum sah ketave namah ll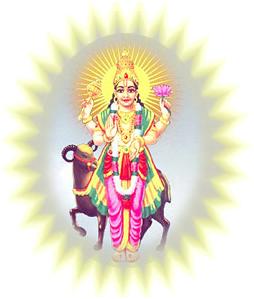 Sri Mangal Yantra helps the worshipper to overcome the above difficulties and one succeeds in all his efforts to gain desires and lead a comfortable life. When Mars is malefic or one is of rash temperament, Mangal Yantra/ Mars Yantra is very useful, it removes the evil effects of Mars like injury, accident etc. Those who are suffering from high blood pressure and those whose Mars is placed in first, fourth , seventh and tenth house shall keep this Yantra at their homes or with themselves to ward off the evil effects of the planet Mars on them.
Mangal Yantra is used to remove the malefic effects of Mars and appease Planet Mars spiritually. Mars Yantra can be used to enhance physical and mental strength, brother-sister relations, courage, power etc. The ladies or gents who are deprived off the marriage even up to 30 to 40 years due to certain obstacles or married life is full of miseries and difficulties, backings, threatened separation or divorce, should keep Mangal Yantra/Mars Yantra toward off above evils. Also Mangal Yantra/Mars Yantra works remarkably in case of abortions, denial of children, one remains in debt and is not capable to repay in spite of honest intentions rather debt increases making the life hell, all these difficulties can be spiritually overcome by wearing/keeping Mangal Yantra.
Mantra: "Om Kraam Kreem Kraum Sah Bhaumaay Namah"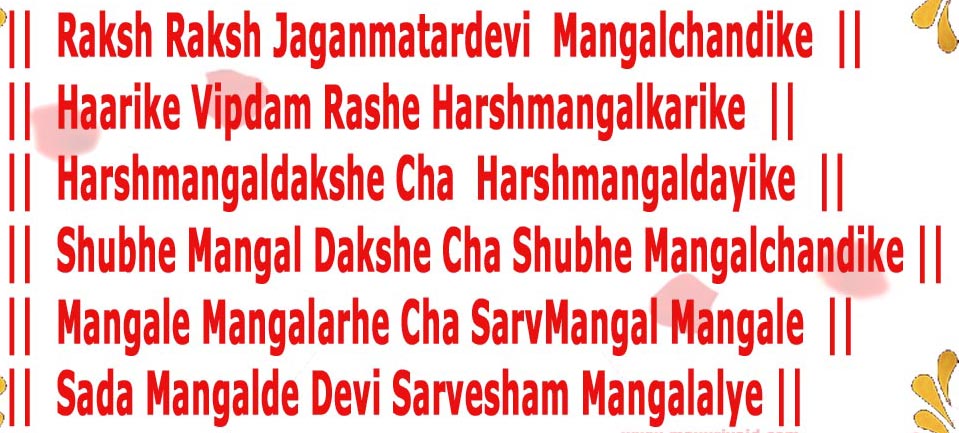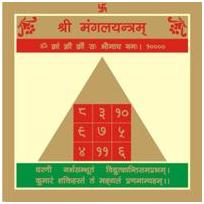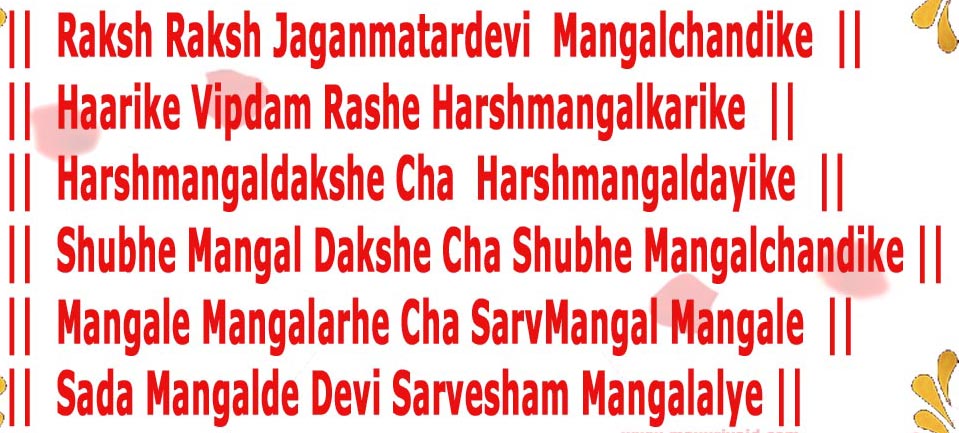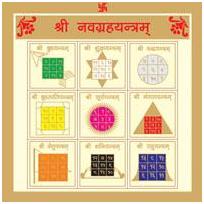 Navagrah Yantra is a combined Yantra for all the nine planets and is divided into nine squares, each one with a talisman representing one planet. Navagrah is an extremely useful & beneficial Yantra, since its worship strengthens benefic planets & increases their positive influence and pacifies malefic planets and neutralizes their negative effect. Navagrah Yantra is recommended for all, particularly those whose planets are detrimental or malefic as per horoscope. Navagrah Yantra should be worshipped life-long to ensure that you always get maximum advantage from your planets