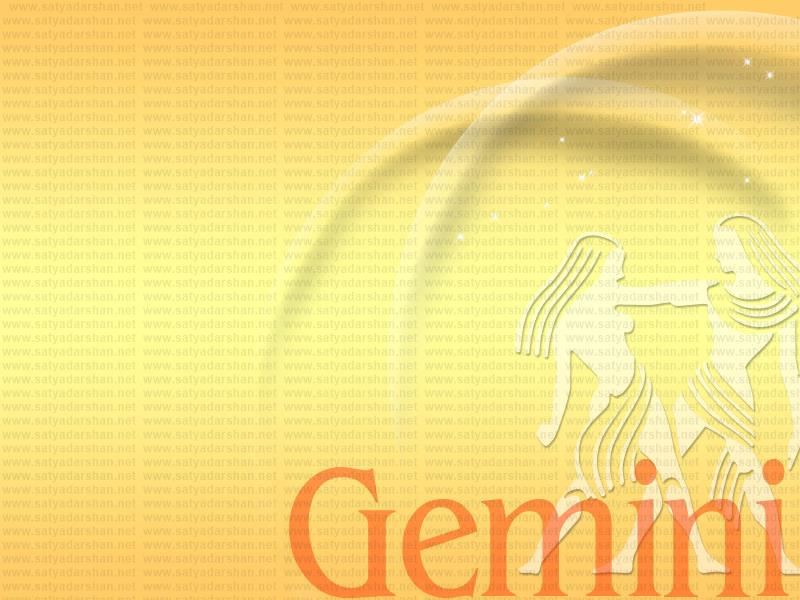 Gemini or Mithuna (May 22 - June 21)
Dates:21 May - 20 June
Sign of Nature:The Narrator
Ruling Planet:Mercury
Symbol:The Twins
Element:Air
Color:Yellow
Metal:Ogate
Gem Stone:Agate, Emarald
Quality:Mutable (Dual, Unstable)
Nakshtra:Mrigshira, Adra, Punravasu
Lucky Day:Wednesday
Lucky Nos. 1, 3, 5 and 7
Compatible:Aries, Leo, Virgo, Libra, Sagittarius, Aquarius

| | | |
| --- | --- | --- |
| | | Love Relationship |
| | | |
| | | |
| | | |
Man
A Gemini man is a person who can readily apply himself to new tasks and highly knowledgeable and intelligent. They are very good in communication and humoourous by nature which can easily attract the opposite sex.They are also known for their restlessness and always look for changes in life. They can gel with any crowd because of their friendly nature.
They are fun loving characters who have the passion for parties and entertainment. They are personalities for engage themselves in lot of relationship before marriage but once they decide on their partner they remain very loyal and true to them and are never possessive or jealous. It is a challenge for the opposite partner of the Gemini man to keep him without getting bored by entertaining him for he is not a consistent person by birth. They are not dominating both at work and home.
Woman
The Gemini is intellects, highly expressive and very communicative in nature. They are very adaptive and think a lot before reacting for situations or pre plan it accordingly. They always seek for new ideas and discoveries which are never ending and gets stimulated to action. Thus at times this constant search of new things may end up in loosing their tracks. But as they become old they become cognitive in distinguishing and gets oriented back.
They like to converse a lot and form networks with others but however they do not like to get themselves associated with any clubs.They are endowed with reason or understanding in breaking the complexity of life. Gemini woman s are very cordial, refined and are marked by regard for the needs or feelings of others. They can be a good home maker as well as business women and are good at reading and writing. They are mentally fatigued and possessing or manifest vigor of mind. They are the one s who instinctively or habitually doubts and unless and until without proofs it is difficult to convince them.Inspite of all these positive traits at times they mess up because of their dual nature.
Relationship
In a relationship: You love to use your mind and imagination, since it is variety in life and constant change that you need.The Empress brings a precious gift: genuine love and the development of a relationship. Love grows, and, with it, commitment. Your love for your partner deepens.
If you are looking for love: There is potential everywhere for love, should you truly seek it. This is also a time to enjoy fulfilling relationships with close friends.

Advice
: Whatever your situation, The Empress will bring you love and security.
Personality
Choosing a gift for a Gemini isn t as difficult as it seems. Anything unusual that catches your eye is bound to thrill your Gemini friend. Give the greatest gift you have to offer for Geminis - the gift of your unconditional love would be most appreciated by them. Geminis are also fond of challenges and electronics. So, why not give games that challenge Gemini mentally, electronic organizer, mobile phones, games console, video collection, computer games, 3-D jigsaw, electronic chess set, scrabble, model train set, crossword book, fashionable, modern (rather than classic) clothing and accessories.
Love
The people who belong to Gemini usually express their love through speech and mental activity because it is ruled by the planet Mercury. They mainly get attracted by the communicative skills of the other sex and that is the point where they fall in love.Geminians get excited by sexy languages like love poems and erotic tales.

Though the Geminians are not very much concerned with love matters, they look very attractive and can be pursued constantly by admirers. Initially they turn their back to the lovers but later the more bestowed the he or she becomes. The people of this particular zodiac sign gets easily catalyzed by change and variety within a relationship and often blamed for being flirty and unfaithfull.But it is actually a misconceptions because what they really require is someone to talk with and if this can be achieved by flirting and tossing aside boring, unresponsive people then they will go ahead and do so.
Career
Geminis do well as brokers, businessmen, advocates, secretaries, journalists, travelling agents, and jobs related to them.
Ruling planet- Mercury- Mercury denotes salesmanship, school teachers, orators, accoutants, poets, editors, printers, publishers, clerical services, auditing, insurance agents, postal department,etc.
Health
Versatile, multi-talented Gemini gets sick because he or she just tries to do too much, too fast and their central nervous system goes awry on them from the incredible stress load put on it.Gemini s run on nerve-energy fuel. Other areas that Gemini is likely to get injured or have to pay attention to, health-wise, are their hands, arms, shoulders and lungs. Most Gemini s, when they get sick, get over it very quickly. If everyone else is having a 7 day cold, you will get it for 3 or 4.
Gemini also has ruler-ship over the Eustachian tubes that run from the ear into our lymph gland system. The other "tubes" in our body that Gemini rules is the fallopian tubes in a woman, the ureter tubes and the urethra. Colds just naturally gravitate to your lungs, which is your weak link in your body. So, other ailments such as bronchitis and pneumonia can stalk you, too. If you would take an hour out of your hurry-scurry day, Gemini, and do some yoga or meditation, this would really keep most of the colds and flu away from you.
Physical
The Geminians are generally very attractive physically and have sharp and well defined features. Sometimes the eyes are not set evenly. Height varies from moderate to tall but is very slim. The limbs are characterized by quickness, lightness, and ease of movement, thus usually long and nice.Geminians have dual facial features like one brow lower or one side of the lip higher.
Finance
Geminians are not very much concerned about money for they bother a lot more on their career. They consider money just as a supporting factor for their family. But when it comes to money they see to that it is an advantageous purchase after a long negotiation. For the Geminis to be more concerned about the finance they have the power of reasoning and actuated by emotion.
Fashion
The Geminians collects wide variety of clothes for every occassion.They usually go in for those which can be easy to maintain. Men always want to carry a brief case whereas women will like to hang around with a handbag. They are very particular about their hand and adorn it with bangales, bracelets, rings and a gauntlet.
Those shoe fanatics out there...
Gemini want their shoes to be the talk of the town. They look out for the latest trends and designs in shoes. Trendy shoes, funny ones and flirty ones usually catch their interest.