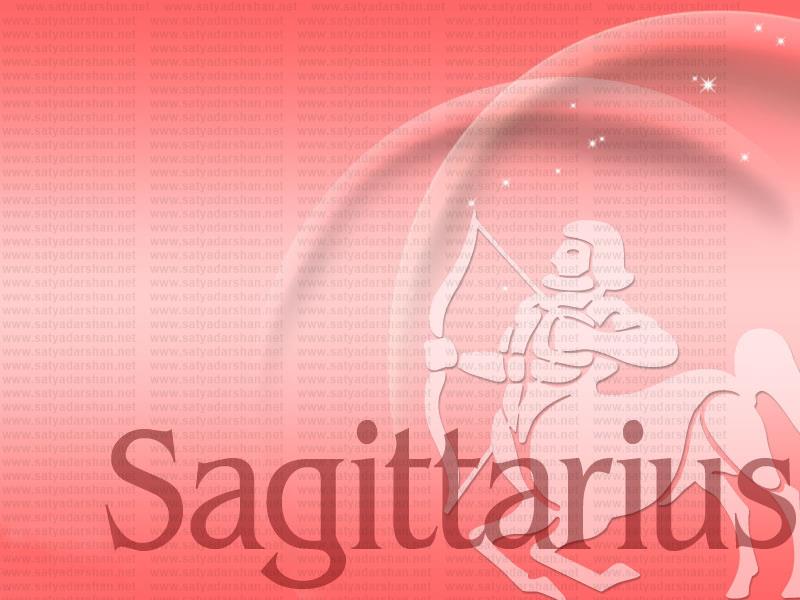 Sagittarius or Dhanu (November 23 - December 24)
Dates:22 November- 21 December
Sign of Nature:The Traveller
Ruling Planet:Jupiter
Symbol:The Archer
Element:Fire
Color:Purple, Blue
Metal:Tin
Gem Stone:Yellow Sapphire, Topaz
Quality:Mutable (Dual)
Nakshtra:Mool, Purvashadha, Uttrashadha
Lucky Day:Thursday
Lucky Nos. 1, 3, 5 and 9
Compatible:Aries, Gemini, Leo, Virgo, Libra, Aquarius, Pisces
| | | |
| --- | --- | --- |
| | | Love relationship |
| | | |
| | | |
| | | |
Man
A Sagittarius man is honest and frank and never circuitous or evasive in nature. They are very point blank in their speech which sometimes look rude and also hurts other people and so are they are hurt by others because of their faith in others. They fix their target and also set a path in which they move forward with no diversion until they achieve their goal. They crack jokes which are consistently accurate for the situation.
They have a tendency to expect the best possible outcome or dwell on the most hopeful aspects of a situation and never look into the negative aspects. They are highly challengeable both in their life and work. A Sagittarius man never looks into the physical features of other people but rather they mingle with them based on their internal aspects. They are very much inclined to act on impulse rather than thought which makes short tempered quite often. A Sagittarius man would prefer the state of being free or exemption from the power and control of another, especially from the partners and so are they to them.
Woman
The Sagittarius woman is very dynamic and audacious by birth. They are very active, keep seeking for something new to widen their scope. They are fraught with great emotion and enthusiasm in the search for their dream. They can never limit them to circle but instead keep moving forward in order to capture their goal. They are not circuitous or evasive but honest and frank in their talking and doings. They are highly vision minded. But in the look out of new things they fail to master the present skill and left behind with less knowledge about that particular subject.
Not always, but are capable of sharp tongue in a bad mood and can be really very hurting to the other person. The Sagittarius women will expect others also to move according to her speed which is not possible. Being very optimistic they consider every opportunity as a step to move higher in the ladder. When it comes to expenditure they are very lavish or imprudent. The more they are hurting the more they get hurted but however it gets vanished quickly. Thus according to astrology they are to be fortunate or prosperous.
Relationship
In a relationship: You are adventurous, broad minded and intellectual. Expect a sudden shift in the sphere of your affections. This is a positive time so you enter an intensely happy phase in a relationship as factors such as family, work, and finances take a turn for the better. A quirk of fate may also bring you closer to your beloved.
If you are looking for love: You can look forward to an upturn in love potential. It may come as a relief to know that change will come regardless, particularly if you have been networking non-stop but not meeting anyone romantically. Be sensitive to the synchronicity around you. Love is fated!
Advice: Whatever the situation, romance takes a turn for the better.

Personality
This sign is associated with social and outdoor pursuits. So, gifts associated with the astrological sign of Sagittarius should revolve around outdoor physical activities, social pursuits, and broadening horizons. You can arrange a trip to celebrate the New Year in a foreign country or somewhere off the beaten track. They would love to spend the season with their loved ones by relaxing and having fun. These animal lovers adore any gift associated with their pets. A calendar filled with pictures of dogs or horses is sure to elicit a big smile. Books (especially philosophy, satire, politics, humour, spirituality, anthropology, sociology, self-improvement, travel, and information on foreign places and people), camera, an evening dedicated for a candle light dinner, unique art and sculptures will also be appreciated. .
Love
The Sagittarians are fickle minded people and it is very difficult for them to remain constant in love. They are not steady for they keep moving in and out of love like a Yo-Yo, sometimes with the same person. To be trapped in an unhappy relationship or marriage is unendurable for a Sagittarian. But even a small difficulty they get back to their original partners either immediately or little later, months or years later as if nothing had happened, and a few are gone for a good.

Their nature is when separated from the partners get remorseful and it does not mean that in the absence of the relationship it is grown thicker. Even if they get back with good intentions they soon feel the same way of getting trapped and recycling starts if the other partner let it go. But however a Sagittarian who is in true love is considered to be an excellent person full of fun loving, warm, generous and affectionate.

Career
Teachers, professors, priests, public speakers, politicians, bank employees, professions related to religion and education institutions, editing and publishing, company law, civil engineering, contractors, foreign assignments. Also interested in jobs related to animals and their welfare.
Ruling planet- Jupiter- This indicates commerce, trade, government services, law , religion , money-lending, astrology, revenue, judges, scholars, authors, politics, income tax department.

Health
Sagittarius is the healthiest of the twelve signs. You rarely come down with anything, and if you do, it s a fleeting cold or a 24-hour type of flu--and that s all. Jupiter, your ruling planet, has really done you a favor. Sagittarius rules over our exhaled breath, the sciatic nerve and our hip region of our body. Athletically, you are one of the most active of the zodiac signs. "Shallow breathers" is a syndrome that you and Gemini share exclusively. So, if you don t breath out fully you are in for more trouble. Usually, Sagittarius women end up with big hips and abundant thighs.
Weight will gather there as you grow older and there s not much you can do about it. The guys usually stay thin and they don t get this extra gift of weight. One thing, though, regardless of your gender, is sustaining injury to the lower part of your body; a cracked pelvis, a broken hip or thigh . Or, a lot of bruises, cuts or scratches occur in this region. The worst is sciatica, which is the inflammation of a very large nerve that runs from the lower spine, down through your buttocks, your thigh and all the way down to the heel of your foot. This is a big, long, central nerve pathway. For Sagittarians, Sciatica gets inflamed from time to time.

Physical
The Sagittarians with lively attitudes have a thick wavy hair which is most of the time dark in colour and at times it is tinged with red colour.The head is always bigger than the rest of the body. They have an elongated oval face with thick lips. They give a broad smile thus showing out their large teeth. They are either very tall or short and slim in young age but tend to put on more weight in old age.
Finance
For Sagittarians wealth is something which attracts them by arousing hope or desire in them. They will see to that they create the wealth for them for a grand comfortable living. Their nature to expect the best possible outcome or dwell on the most hopeful aspects of a situation, at times might lead to unreasonably idealistic mess in the finance.
Fashion
Sagittarians adhere to more for comfort clothing s and footwear s than fashion. They have weakness for sunglasses and leather jacket. Their wardrobe has more of oranges, browns and yellows. They always prefer to wear knits like tee shirts, sweat shirts and pants because of their traveling nature. They like to hang around in a jean always.
Those shoe fanatics out there...
Sagittarians have a liking for shoes that are comfortable in their adventurous tasks because they are always found to be on the move. They need shoes that last long and withstand much wear and tear. Sneakers are usually preferred by Sagittarians